CLO2 Safely Neutralizes and Eliminates Odors!
Power of Chlorine dioxide: 
Chlorine dioxide is not to be confused with chlorine bleach. ClO2 does not generate harmful by-products produced by chlorine bleach. Chlorine dioxide is a gas with strong oxidizing properties which quickly neutralizes and eliminates odours. DeOdorPRO offers chlorine dioxide in both liquid and gas, which are often used in tandem for cases of extreme odour. Chlorine dioxide eliminates foul odours caused by mold, mildew, smoke, and other organic sources. Chlorine dioxide breaks down to salt and water when exposed to light and air, making it safe for the environment. 
How is CLO2 Generated?
Chlorine Dioxide is generated by combining an acid with sodium chlorite. In the past, this method required expensive, large electrical generators. The development of the first non-electric device in the form of dry media technology began in the early '90s.
Optimal Convenience and Performance with Dry Media Technology 
Dry media technology is the ability to keep chemicals separate until the point of use. Early dry media pouches were activated by means of wicking through the engineered synthetic membranes. Flaws in these early delivery system designs led to inefficiencies in chemical conversion rates and prevented them from making larger pouches while leaving behind its non-biodegradable delivery system.
CLO2 Delivery Systems has developed a cutting-edge patented technology that uses dry media packets as the engine of their delivery system to solve problems of the past. This patented, biodegradable delivery system has set the bar for the industry's standards, and are available in three sizes: 25, 50 and 100 gram. 
What is Stabilized Chlorine Dioxide?
Stabilized chlorine dioxide products are prepared by buffering sodium chlorite with carbonate or phosphate and hydrogen peroxide. This stabilizes the chlorite, not chlorine dioxide.
Stabilized chlorite is not the same as chlorine dioxide, and does not have the same oxidizing properties.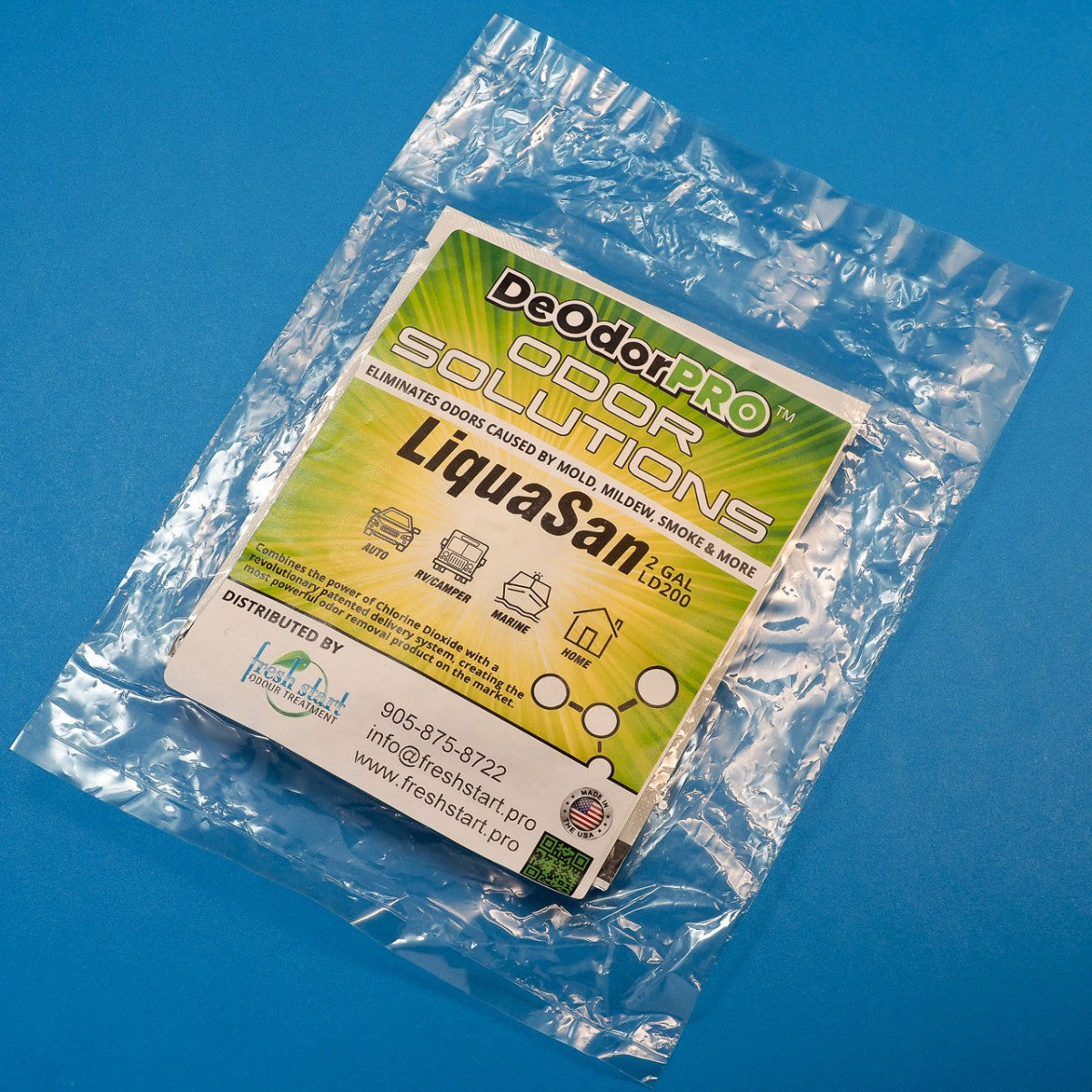 LiquaSan Deodorizer 
In an aqueous form, chlorine dioxide functions as a highly selective oxidant and it remains as a free radical which does not hydrolyze in water. Given proper contact time, liquid chlorine dioxide eliminates all odours on porous and non-porous surfaces, then decomposes into salt ions and water. The liquid can be sprayed or fogged. 
LiquaSan DeOdorPro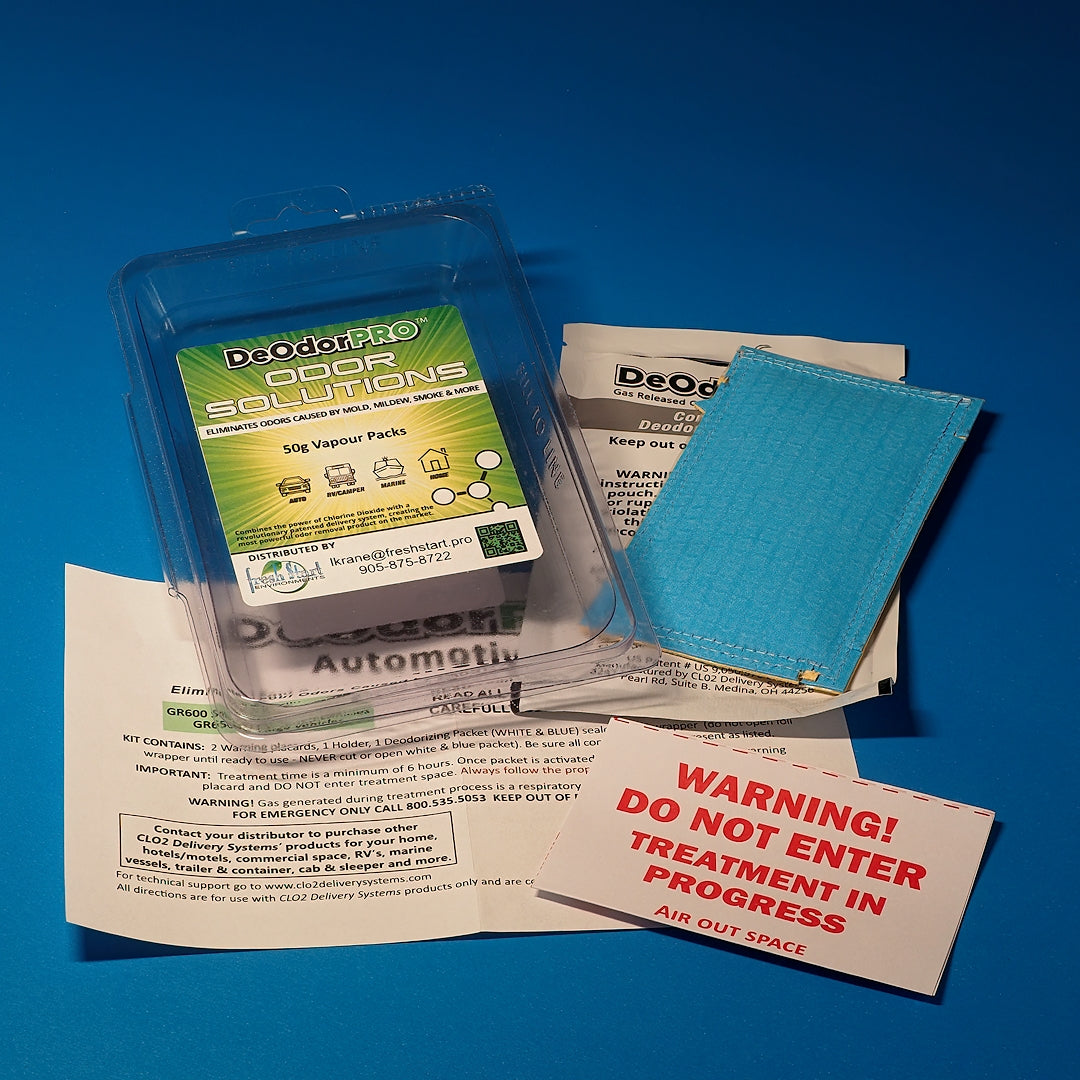 Gas Deodorizer
In a gaseous form, chlorine dioxide eliminates foul odors caused by mold, mildew, smoke, skunk smells, organic sources, and chemical odours in unoccupied confined spaces. The gas and liquid can be used separately or in tandem as prescribed by our extensively field tested directions. 
DeOdorPro Gas Release Kits
SELECTROCIDE DISINFECTANT 
Selectrocide Disinfectant (EPA Registration No. 74985) generates ultra-pure chlorine dioxide.  
It is a remarkable biocide that provides a superior fast kill against a wide range of germs, bacteria, viruses, fungi, algae, and spores.
It is also a general-purpose antimicrobial cleaner used in a wide range of applications.  
It is so pure, at lower concentrations, it can be used on fruits, vegetables, meats, and seafood.
Unlike other traditional disinfectants which poison, chlorine dioxide as an oxidizer physically destroys at a cellular level. It is frequently used for decontamination purposes.Selectrocide Disinfectant harnesses the power of chlorine dioxide, and kills microorganisms by attacking at the molecular level where it creates breaches in the cell wall that disrupts the transport of nutrients, ultimately killing the cell and preventing microbial resistance. Unlike harsh bleaches or acids, Selectrocide Disinfectant'sultra-pure chlorine dioxide does not bleach or damage most surfaces and easily penetrates bio-film, killing the microorganisms that hide under there.
Sectrocide UltraPure Disinfectant
CLO2 Products
These products are recommended for home use.
Regular price

From $29.95 CAD

Regular price

Sale price

From $29.95 CAD

Unit price

per

Regular price

From $57.95 CAD

Regular price

Sale price

From $57.95 CAD

Unit price

per

Regular price

From $34.95 CAD

Regular price

Sale price

From $34.95 CAD

Unit price

per